Tributosaurus Becomes STEVIE RAY VAUGHAN
at Martyrs' - 1 Show - 8pm - Feb 6, 2012

Love Struck Baby
MSpee Vox; Cmo & MikeA
Cold Shot
MSpee Vox
Honey Bee
CNev Vox; MikeA
The Things (That) I Used To Do
MikeA Vox; MikeA Gtr
Crossfire
MSpee Vox; Cmo Piano; MikeA Gtr
Rude Mood / Hideaway
Dirty Pool
MSpee Vox
Little Wing
Telephone Song
CNev Vox
set break
-----------------------------------------
Stang's Swang
Pride and Joy
CNev Vox
Couldn't Stand the Weather
MSpee Vox; Cmo & MikeA Gtrs
The Sky is Crying
CNev Vox; Nick Peraino Gtr
Lenny
Long Way From Home
MikeA Vox, Gtr
Texas Flood
MSpee Vox
Tightrope
CNev Vox: Cmo & MikeA Gtr
Mary Had a Little Lamb
MSpee Vox; All Gtrs

Tributosaurus has explored the farther reaches of Rock n Roll these last 11 years, and it has taken us on a journey through funk, country, jazz, even disco - and while the undercurrent of much of the music we have performed is rooted in it, we have yet to go directly to the Blues.
It's time.
We're going to take things down to Texas, and pay tribute to a talent taken too soon - Stevie Ray Vaughan.
He was a great songwriter, player, and singer - blues fans may want Albert King, Muddy Waters, or Otis Rush - and they are all in SRV's music.  The screaming guitar tone will be brought to life by our own Curt Morrison, but we'll have a couple specially picked guests to round out the night - and we feel like this show needs to be untethered - there will be jamming.  In that spirit, we're only doing one show on Wednesday February 6 - but it'll be a nice long one.
Come on out and see us play some blues!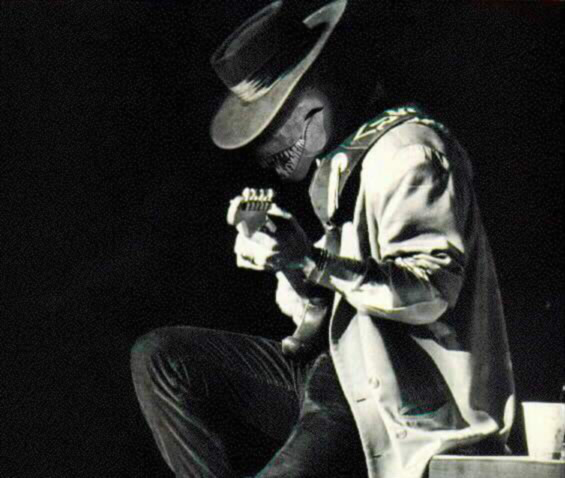 Tributosaurus Becomes STEVIE RAY VAUGHAN
Wednesday, February 6 - ONE SHOW ONLY - 7PM
at Martyrs' - 3855 N. Lincoln Ave - Chicago
Tickets Available a Martyrslive.com