TRIBUTOSAURUS BECOMES THE BAND, REDUX
MARTYRS 12/5/12
CHEST FEVER
horns
ACROSS THE GREAT DIVIDE
horns
OPHELIA
horns
KING HARVEST
LOOK OUT CLEVELAND
Curt vox, Robbie backing vox
CALEDONIA MISSION  
Robbie vox
WHEN YOU AWAKE
TEARS OF RAGE
horns
SHAPE I'M IN
POOR OLD DIRT FARMER
fiddle, accordion
ANNA LEE
Fiddle and vox only
THE NIGHT THEY DROVE OLD DIXIE DOWN
Robbie vox
UNFAITHFUL SERVANT
horns
ROCKIN' CHAIR
2 accordions
UP ON CRIPPLE CREEK
Danny vox?
MAKES NO DIFFERENCE
horns
DON'T YOU DO IT
horns
THE WEIGHT
Danny and all vox
---
This Wednesday - Tributosaurus Becomes THE BAND
There's a moment in "The Last Waltz," the amazing documentary about the final concert by THE BAND, when Martin Scorsese asks Levon Helm about the musical landscape in his home state of Arkansas. Levon says "bluegrass and country music…if it comes down into that area and if it mixes there with the rhythm and if it dances, then you've got a combination of all that music."  Scorsese asks what that's called. And Levon simply says "Rock and Roll."
Come join us as we play Rock and Roll on December 5th at Martyrs, for 2 shows as The Band.  For some of us, this is as good as music gets.  Deep, deceptively simple grooves, soulful harmony vocals, layered keyboard excellence, great lead guitar, and much more.  We'll draw heavily from the self-titled 2nd album, hit the debut "Music From Big Pink," and give you a few versions from the Waltz itself.  There will also be a couple Levon Helm solo tunes as an added bonus and belated homage. 
 Certain bands stand, even decades later, as emblems of the best music can aspire to.  Come enjoy The Band with us.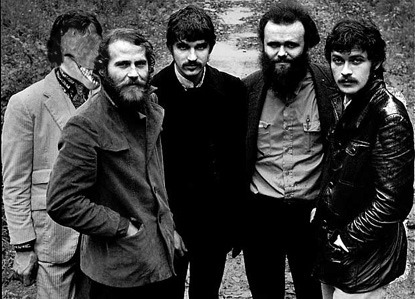 Tributosaurus Becomes THE BAND
at Martyrs' - 3855 N. Lincoln Ave - Chicago
Wednesday, December 5th
2 SHOWS - 7PM & 10PM - $20 Admission
Tickets Available at : Martyrslive.com


---
Other Upcoming Shows On Sale Now...
Tributosaurus Does THE BEATLES - THE RED ALBUM
New Year's Eve Shows!
December 30 - 7PM & 10PM
December 31 - 9PM
at Martyrs' - 3855 N. Lincoln Ave - Chicago
Tickets now available on Martyrslive.com