ONE HIT WONDERS – 70s (Vol1)

Song Title

Lead Vox

Str

Horns

SET ONE

A Fifth of Beethoven

n/a

X

X

Chevy Van

CNev

 

 

Spirit in the Sky

Mspee

 

 

Black Betty

MSpee

 

 

Kung Fu Fighting

DB

X

X

Billy, Don't Be a Hero

Cnev

 

X

Convoy

Cmo

X

 

One Fine Morning

Mspee

X

X

Candy Man

CNev

X

X

Stuck in the Middle With You

Mspee

 

 

Cruel to Be Kind

Mspee

 

 

I Love The Nightlife

Ing

 

X

Dancin in the Moonlight

Cnev

 

 

Brandy

Mspee

 

X

Hot Child In The City

DB

 

 

Afternoon Delight

Cnev

X

 

SET TWO

MEDLEY

n/a

X

X

Bang a Gong

Mspee

X

X

Me & Mrs. Jones

Cnev

X

 

All Right Now

DB

 

 

Rock On

Mspee

X

X

VEHICLE

JimP

 

X

Ring My Bell

CW

 

 

Hold Your Head Up

Mspee

 

 

King Tut

Cnev

 

X

Ooh Child

Ing/DB

X

X

Rock and Roll Hoochie Koo

Cnev

 

 

Precious and Few

Cmo

X

X

The Night Chicago Died

Mspee

 

X

Drift Away

Cnev

X

 

Video Killed the Radio Star

Mspee

X

 

Groovy Guests :

Jim Peterik - Vox, Gtr, Rock Stardom
David Blamires - Vox, Gtr
Gary Guzman - Gtr, Vox
Rob Berry - Keys
Kalyan Pathak - Percussion
Ingrid Graudins - Vox
Cheryl Wilson - Vox

STRINGS:
Chuck Bontrager - Violin
Heather Boehm - Violin
Stephanie Demas - Violin
Carol Kalvonjian - Viola
Erica Lessie - Cello

HORNS:
Mike Cichowicz - Trumpet
Chuck Parrish - Trumpet
Nic Meyer - Saxes, Flute
Ken Partyka - Saxes, Piccolo
Ed Enright - Saxes, Flute
John Janowiak - Trombone
Ryan Miller - Bass Trombone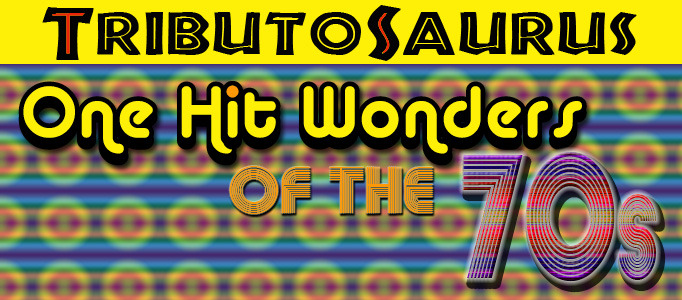 TRIBUTOSAURUS SIGNATURE SERIES :
ONE HIT WONDERS OF THE 70s
at The Copernicus Center Theater
Friday, March 8th, 8 PM

It's not often that Tributosaurus breaks from our standard, trusted formula.  Since August of 2002 we have become one band, once each month.  When we do stray, it's for something truly unique and special. 
It's time to play the greatest One Hit Wonders of the 1970's.
We created the Signature Series to showcase concerts that do not fit into the usual charter, and on March 8th at the Copernicus Center Theater, we revisit our very first show of this type.
The One Hit Wonder is not a rare bird.  There have been thousands of top 40 hits by bands and artists that never again approached the apex of the charts.  We decided to divide this massive collective into distinct eras, making the pool of songs a bit more manageable.  The 1970's offers a tremendously diverse and eclectic batch of memorable flashes in the pan.
Left over psychedelia and folk from the 60s, the heart of the disco era, the richest vein of art rock ever, the beginnings of the 80s electronica; all will be represented in our set list.  We'll play anthemic songs you'd expect, quirky novelties you'd forgotten, and flat out classics you'd always assumed were part of a larger catalog, but were not. 
This will be a long, epic show: a healthy 2 sets yielding over 3 hours of music.  As always, we'll have every musician necessary to pay proper homage, including horns, strings, percussion, extra guitars, keyboards, and backing vocalists aplenty.  The star of the night is, as always, the music itself.



TRIBUTOSAURUS SIGNATURE SERIES :
ONE HIT WONDERS OF THE 70s 
at The Copernicus Center Theater
5216 W. Lawrence Ave. - Chicago, IL 60630



www.CopernicusCenter.org