Sgt. Pepper's Lonely Hearts Club Band

With A Little Help From My Friends

Lucy In The Sky With Diamonds

Getting Better

Fixing A Hole

She's Leaving Home

Being For The Benefit Of Mr. Kite!

Within You Without You

When I'm Sixty-Four

Lovely Rita

Good Morning Good Morning

Sgt. Pepper's Lonely Hearts Club Band (Reprise)

A Day In The Life



Magical Mystery Tour

The Fool On The Hill

Flying

Blue Jay Way

Your Mother Should Know

I Am The Walrus

Hello Goodbye

Strawberry Fields Forever

Penny Lane

Baby You're A Rich Man

All You Need Is Love
 


 93 XRT presents Tributosaurus Becomes THE BEATLES, VOL 5
Partial Proceeds Benefit the Betty Hemmert Music Scholarship Fund


When we started our Beatles odyssey, to perform all of their recorded songs from start to finish, we had this show in the back of our minds. This was the turning point for them, and many think it is the crown jewel of the finest musical catalog ever created. Rolling Stone called Sgt Pepper "The most important Rock & Roll album ever made" - and who are we to argue? But we won't stop there - we will also perform all of Magical Mystery Tour, including the singles from 1967 (who but the Beatles would release a song like "Penny Lane" as a single only?).

These songs have been covered thousands of times by hundreds of bands, but we will take things one step further, bringing in the full complement of orchestral and world instrumentalists needed to faithfully re-create the sounds we all know by heart. Whether it's the haunting harp intro of "She's Leaving Home", the 2 violas on "Hello Goodbye", the clarinet trio on "When I'm 64", the trumpet quartet on "Magical Mystery Tour", or the full orchestral bombast of "A Day in the Life" and "I Am the Walrus" - we will bring it to the stage in all its glory.

We have partnered with 93XRT to make this special event happen, and $5 of each ticket sold will go to the Betty Hemmert Music Scholarship Fund , helping kids who need help to pursue their interest in music. Some of us are music educators ourselves, or the children of music educators, so the fund named for Teri's late mother and teacher is something we wholeheartedly support.

An event like this requires a special venue, and we have found the perfect place. The Copernicus Center Theater was the first movie palace in Chicago designed for talking pictures, and it has been restored to its' original condition and outfitted for live performance. We could not believe this place is still a bit of a secret, and neither will you. It is incredibly convenient - located just a block from the Kennedy on Lawrence, and 2 blocks from Metra and Blue Line stops at Jefferson Park Terminal. From the starry sky ceiling to the marble clad lobbies, everything about this theater impresses, and the acoustics are fantastic too. 

This show is our largest and most complex undertaking to date, and it promises to be a night no music fan will want to miss. Tickets go on sale this Friday, August 31st at 10AM on Tributosaurus.com and CopernicusCenter.org, as well as at WXRT.com. Tickets are ONLY available online (no box office sales). The seating is assigned, so you'll want to get yours ordered as soon as you can to reserve the section you want - and bring your kids to experience this - it is an ALL AGES show.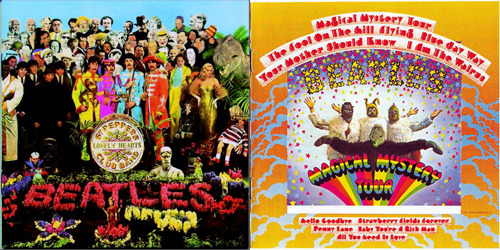 Tributosaurus Becomes THE BEATLES, VOL 5

Sgt Pepper's Lonely Hearts Club Band & Magical Mystery Tour
at The Copernicus Center Theater
5216 W. Lawrence Ave. - Chicago, IL 60630