Tributosaurus Becomes THE WHO, VOLUME II
at Martyrs' - Thursday, August 9 - 2 Shows

MY GENERATION 
MSpee Lead
SLIP KID
Cnev Lead
GOING MOBILE
SF Lead, DB Ac
LOVE AIN'T FOR KEEPING
CMo Lead / CMo, CNev, DB Ac
SQUEEZE BOX
MSpee Lead / DB, SF Ac / Banjo (Amp) / Accordion
BEHIND BLUE EYES
CNev Lead / CNev Ac
I CAN'T REACH YOU
DB Lead / SF Ac
WE'RE NOT GONNA TAKE IT
SFris/MSpee Lead
A QUICK ONE
MS,CN,JP,CM Leads / DB Ac
SUMMERTIME BLUES
CNev/DB Lead
TRICK OF THE LIGHT
MSpee Lead
LOVE, REIGN O'ER ME
SF Lead / DB Ac
PINBALL WIZARD
CNev Lead / CM Ac (Mic + DI)
PURE AND EASY
SF/MSpee Lead / DB Ac
YOU BETTER YOU BET
MSpee Lead / SF Ac
GETTING IN TUNE
CNev Lead / DB Ac
BABA O'RILEY
DBlam Lead / SF Ac / Violin

GUESTS :
Steve Frisbie - Vocals
David Blamires - Vocals, Guitar
Scott Stevenson - Keys
Kalyan Pathak - Percussion
Chuck Bontrager - Violin

---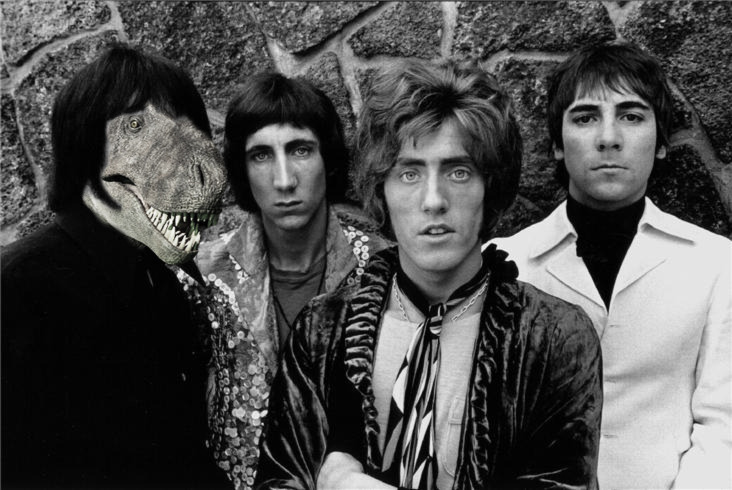 In August of 2002, we began with The Who.
So a decade later, we do what makes the most symmetrical sense. 
Join us for our official 10 year anniversary show, on August 9th at Martyrs, when Tributosaurus becomes The Who, Volume II.


It'll be an entirely new batch of Who songs, different than the ones we did on New Year's Eve a few years back, or at an outdoor festival last summer. There were some huge hits on those previous shows, but the enormous batch of excellent songs from Townsend, Daltrey, and company allow us to fill another entire set with impunity. Sheesh, we've only done 1 song from Tommy. That will change.
As always, we'll be joined by some of the best musicians in Chicago, making sure we have the perfect fit for whatever the music demands. That means replicating those soaring arena rock vocals, the anthemic guitar riffs, and that enigmatic, insanely active rhythm section.  Bring it on.

Tributosaurus Becomes THE WHO, VOL II
THURSDAY, August 9th - 2 Shows - 7PM & 10PM
at Martyrs' - 3855 N. Lincoln Ave - Chicago
Tix available at : www.martyrslive.com