TICKETS GO ON SALE WEDNESDAY NOV 24 AT NOON
On New Years Eve weekend, you can refer to us as The Artist Formerly Known As Tributosaurus.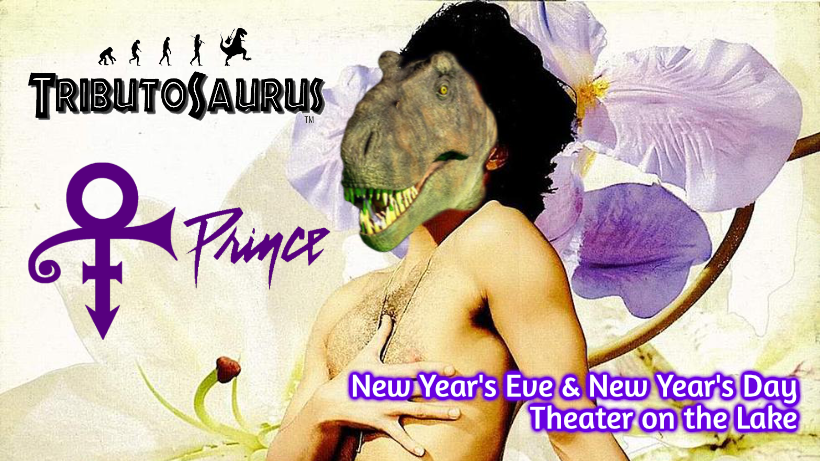 What better way to kiss off 2021, and grind into 2022, than with us at Theater on the Lake as we become Prince. The calendar cooperates perfectly, granting a weekend for 2 shows: NYE Friday night the 31st, and a mega show on Saturday, Jan 1 to welcome in 2022 the right way. 
We somehow will choose the best of his more than 1000 songs, representing as many eras of his mastery as we can. The set list will range from early falsetto sex-fueled freakouts, to huge pop radio hits with The Revolution, with a solid taste of the NPG thrown in too. 
There are so many beautiful ballads, innumerable funky grooves, brilliantly composed vocal harmonies, and roaring guitar parts.  It will be a very large band, with horns, strings, and a big backing vocal section to do it right. 
So come party like it's Nineteen ninety…um…2022…uh…whatever. 
We can't wait. 
TRIBUTOSAURUS BECOMES PRINCE - HAPPY NEW YEAR! 
at Theater on the Lake 
2401 N Lake Shore Dr., Chicago, IL 60614 
Tickets go on sale to the general public at Noon on Wednesday 
FRIDAY, Dec 31st - 10pm - New Year's Eve 
**TICKETS INCLUDE 5-HOUR OPEN BAR (NYE ONLY)** 
>>Get Tickets HERE<< 
SATURDAY, Jan 1 - 8pm - New Year's Day 
>>Get Tickets HERE<<