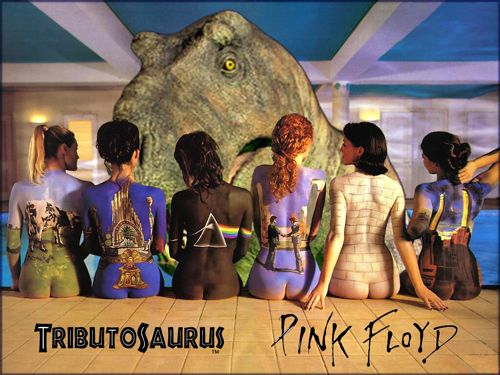 No one sets a musical mood like Pink Floyd.  Epic, flowing soundscapes lift you louder and higher, then gently caress you back to the ground.  Let's have that collective aesthetic experience together, shall we?  
Tributosaurus will give you the gift of perfect progressive psychedelia this Christmas as we become Pink Floyd on Wednesday December 8th and Thursday December 9th at Martyrs.  We'll give Waters/Gilmour/Mason/Barrett/& Wright's contributions to the rock canon all the loving, mindful detail it deserves. That David Gilmour guitar tone and unmistakable solo style.  Roger Waters' vision, and sardonic darkness.  Richard Wright's passionate keyboard explorations.  Nick Mason's powerful percussive calm.  All of it inspired initially by the beautiful madness of Syd Barrett.  Their collaborations brought together tinges of hard rock, folk, blues, and electronica that ended up defining "space rock."  And those lyrics; the syllables are melodic in and of themselves. Breathe in the air. Don't be afraid to care. Float on the steel breeze. You rearrange me 'til I'm sane.  
The 1st set will be a selection of Floyd favorites from so many great other albums, and the 2nd set will be all of Dark Side of the Moon, in order.  Maybe you could also watch The Wizard Of Oz on your phones. Either way, the satisfaction of reaching "Brain Damage/Eclipse together should be transcendent.   
Come be with us as we become Pink Floyd, to hear and feel and sense some of the greatest music we know.
Tributosaurus Becomes PINK FLOYD
Wednesday Dec 8th AND Thursday Dec 9th - 7PM
at Martyrs' - 3855 N Lincoln Ave - Chicago, IL
Tickets available at: Martyrslve.com