Tributosaurus is the Jurassic beast of multiple musical faces, and every month, the beast morphs into a different rock group. The finest musicians from Chicagoland join the core group to sit in…to sing and play songs they've wanted to cover all their lives.
Tributosaurus is 20 years old in August!
TICKETS ON SALE THURSDAY JULY 28 AT NOON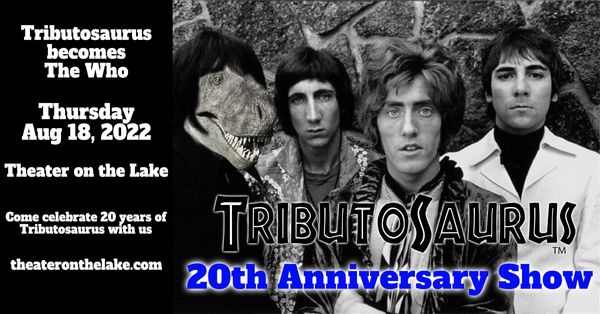 How has it possibly been 20 years since Tributosaurus started?

It began simply:  the idea to do a night of music by just one band, with a set list that pulled from their whole catalog and represented their entire career.  And then, maybe we could change the band every month.  Hell, we could be the Chicago Symphony Orchestra of rock and roll!  They're a really good classical cover band; this music deserves the same respect.

And you, the attendee, the concert-goer, the music appreciator, have helped us do this thing month after month after month.

Thank you.

Please join us for our 20th anniversary concert and celebration, on Thursday August 18th at Theater On The Lake, when Tributosaurus becomes The Who.

The Who is the band we became in August of 2002, so it had to be the choice for this show.  It's one of our very favorites to do. Danny gets to channel Animal from the Muppets and play lead drums as Keith Moon, Jon Paul gets to use his papal infallibility to play explosive lead bass as John Entwistle, Curt will wear a vintage baseball hat (probably) and play thunderous lead guitars as Pete Townsend, while Matt and Chris get to become one of rock's all time golden gods as lead vocalist Roger Daltrey.

The set will pull the very best from the early Mod days where you can hear the roots of punk, from the rock opera heyday of Tommy and Quadrophenia, and from the classic rock album stuff that still owns FM radio.  You'll get massive hits, and a few carefully chosen deep cuts we love.  All the songs will be delivered with passion and attention to detail, with whatever instrumentation the music demands.

This should be a hell of a night, and just like the last 20 years, it can't happen without you.
Tributosaurus Becomes The Who - 20th Anniversary Show
Thursday August 18th, 7:30PM
at Theater on the Lake
2401 N Lake Shore Dr., Chicago, IL 60614
theateronthelake.com
The Stones AND U2 in one show!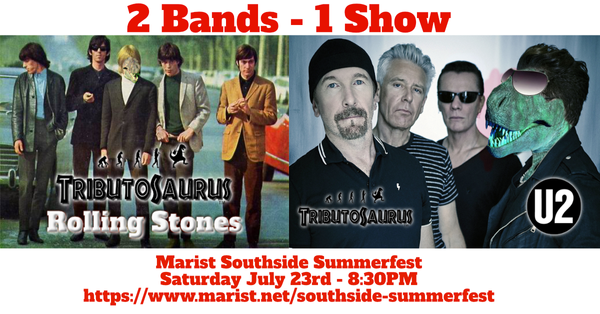 You know what we usually do: One band, one night.  Tributosaurus carefully curates a songlist to showcase the best of a full artist catalog, and then we play it for you as cleanly and passionately as possible. Every once in a while though, an event presents an opportunity for us to do two bands in one night, and that presents to YOU the opportunity of seeing us become two different artists.

Join us Saturday July 23rd, at the first ever Southside Summerfest presented by Marist, when we become The Rolling Stones and U2.  A set of each of these iconic bands will comprise our 90 minute set to close what should be a beautiful night of music outside in the Mount Greenwood neighborhood.

We will be the third and final band of the Southside Summerfest, on the Marist Football Field at 4200 w 115th Street.  It's our Football Stadium debut!  The event is brought to you by the folks who used to run the Old St. Pat's Block Party, which for 35 years was one of the best summer events in the city.  This fest at Marist ought to offer the same kind of fun, and we'll be doing our part with the music of 2 bands we love to play.
Tributosaurus Becomes The Stones AND U2
Marist Southside Summerfest
4200 W. 115th Street - Chicago, IL 60655
https://www.marist.net/southside-summerfest