Tributosaurus is the Jurassic beast of multiple musical faces, and every month, the beast morphs into a different rock group. The finest musicians from Chicagoland join the core group to sit in…to sing and play songs they've wanted to cover all their lives.
In February, you can call us the artist formerly known as Tributosaurus...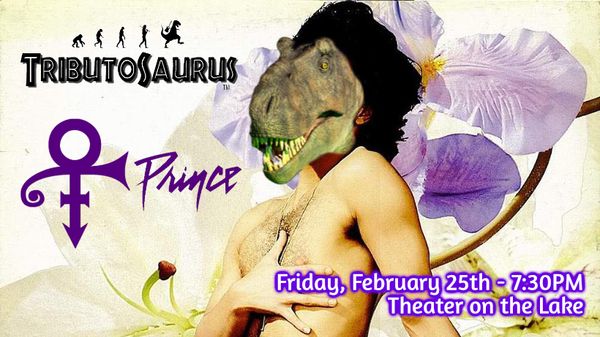 We thought we had better way to kiss off 2021, and grind into 2022, but Omicron had a different idea.  That is now in the rear-view, so come and join us at Theater on the Lake as we become Prince. We have moved the show to late February, and there's only one this time, so get your tickets while you can. 
We somehow will choose the best of his more than 1000 songs, representing as many eras of his mastery as we can. The set list will range from early falsetto sex-fueled freakouts, to huge pop radio hits with The Revolution, with a solid taste of the NPG thrown in too. 
There are so many beautiful ballads, innumerable funky grooves, brilliantly composed vocal harmonies, and roaring guitar parts.  It will be a very large band, with horns, strings, and a big backing vocal section to do it right. 
So come party like it's Nineteen ninety…um…2022…uh…whatever. 
We can't wait. 
TRIBUTOSAURUS BECOMES PRINCE 
at Theater on the Lake 
2401 N Lake Shore Dr., Chicago, IL 60614 
Tickets go on sale to the general public at Noon on Friday (1/28) 
FRIDAY, Feb 25th - 7:30pm 
TICKETS ON SALE FRIDAY JAN 28 at NOON
 Tickets: https://tributosaurus-becomes-prince.eventbrite.com/